cuteQualityManager for E&I is an unique Software to manage the entire QA Activities and documentation
cuteQM
Specialized software solution to manage the entire QA activities while managing major E&I projects. Starting from ITP, Material Inspection, RFI/AFI Inspection Management, Stage Inspections, Pre-Commissioning, Commissioning and all the reports generation and documentation will be much easier with templates.
One Click Final Documentation

The Final Documentation can be generated very easily which usually takes months to compile. Keeps track of the missing documents as the project progress."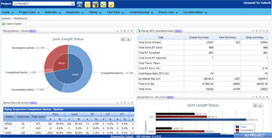 The inspection can be carried out and instantly the data can be captured with the tablet PC.
The reports can be generated immediately for signatures as the inspection completed.
Avoids unnecessary paperwork and saves time.
The equipment calibration data and reports with appropriate reminder alerts
Key Features
Material Inward Inspections
Material Substitution Inspections
Auto upload of signed documents
User Customizable Interactive Dashboards & Reports
Cable Tray Inspection
Cable Schedule Inspections
Meggering Test Inspections
Equipment Installation
MC Checksheet Preparation
Commissining
Punch list Monitoring